Meet the Editors: An Interview with Editor Gail Aronson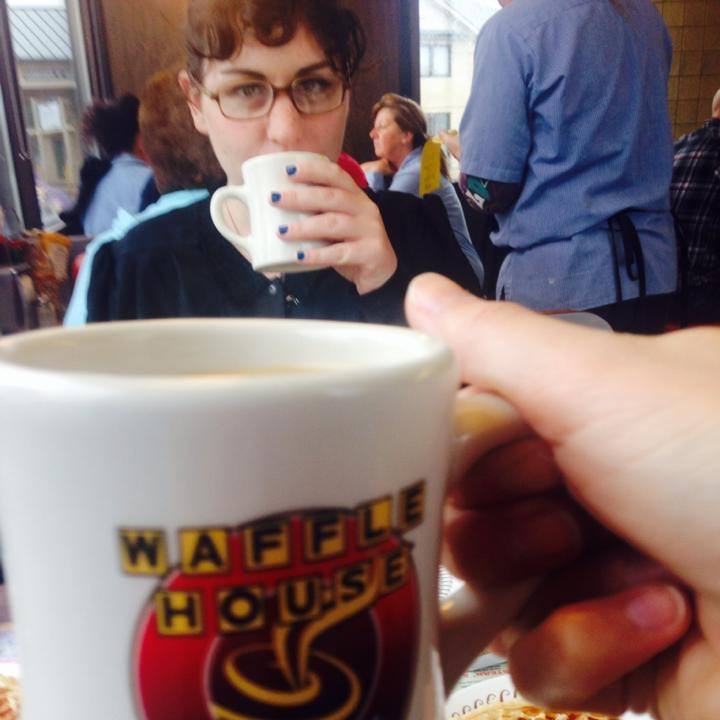 It's a new year and new staff here at BWR. We (the editors) interviewed each other so that you (the world) could get a sense of us as editors/readers. We're pleased to meet you!
---
Interview by NABILA LOVELACE
Nabila Lovelace: What brought you to the project of BWR?
Gail Aronson: From my very first time reading for the journal, I was impressed by the openness of every reader, the integrity and thoughtful consideration that guided conversations. This level of care is something I think about often and still admire about BWR. And before this, when I'd leaf through lit journals in California, BWR always stood out to me. I wasn't thinking seriously about applying to MFA programs yet, and when I decided to come here, BWR was one of the most important deciding factors. I like that you frame BWR as a project and I agree! I think of it as a conversation with the work that's come before, something we can keep building on to create the journal that feels most necessary, most full of surprise and joy and heart.
NL: I think your investment in BWR is one of not only time, but actionable work & that's a thing I admire greatly about you. As the new editor what are the investments of BWR for your time in the position?

GA: Thanks for saying that! I'm sooo grateful to be on the same team as so many amazing people who make BWR possible, and I hope that we can keep investing our time and energy towards a project that takes on the work that needs to happen. As a journal that has been around for quite some time, I think it would be a huge disservice to our community of readers and writers not to challenge ourselves and ask questions about what needs to change, how we can keep moving forward. I'm thinking specifically about the idea of the journal as a gatekeeper. I'm most interested not only in stating that we want to hear from marginalized voices in our submission queue, but finding actionable ways to open up the space of BWR and to make everyone feel welcomed to submit. Since we are a print journal, I also feel it's incredibly important to find ways to heighten access to more individuals who wouldn't necessarily seek out BWR without the knowledge gained from being part of academia. These are all projects that take on multiple forms, whether it be donating back issues to local schools, working on ways to have BWR available in more public libraries, or expanding how/in what frequency work receives a platform online. These are discussions I've had with last year's editorial team and hope to continue having this year and to pass on for the future.
NL: As a reader of literature what do you look for in reading each of these genres, for the magazine &/or autonomously?
GA: It's hard to separate what appeals to me most in each genre, and I do love hybrid work. I've never been a single-genre writer or reader, so I think I tend to let myself get drawn into whatever is on the page, so long as it teaches me how to read it and shows me something I haven't seen before, which I think is the case for so many of the works in both 43.1 and the newly arrived 43.2. Part of the beauty of BWR, I think, is that the aesthetic isn't stagnant. I often find myself thinking back to work that breaks up space visually on the page, creates a graph or document to interact with, but I also love a really engrossing narrative. Personally, I tend to be drawn to fabulism, dreamy language and logic, the voice-driven, work that pushes boundaries not only of form but that speaks from a loving place or a furious one, just a place where you feel so viscerally that this something you're reading needs to be said. Nuance and reading a piece the way it wants to be read rather than to serve my own biases is important to me. I truly believe work that comes from love is always what rises to the top for me.
NL: How do you not let your mission as an editor interrupt or infringe on your mission as a writer? & in thinking about your work how do you feel editing has affected your writing practice?

GA: I hope this doesn't sound inflated or disingenuous, because I mean it when I say that BWR has been the most consistently warm and life-giving space for me in Alabama. It reminds me of why I write and it shows me what writing can do, what it can make you feel. I tend to be more tentative with my own writing, and I don't necessarily think of it as something that has an endpoint, so in this way my own writing is separate and something I know that I need to take my time with. BWR, on the other hand, is a project that very much has an endpoint for me (just my own time with it!), something I'm engaged with every day. I've certainly learned more about what kind of work speaks to me and what I'm most drawn to. In the everyday grind of work and so often hearing that one must make writing part of your daily routine like brushing your teeth, it's been nice for me to pour my energy into something that has more of an immediate result and draws me out of myself, because while I love the act of writing, what's most important to me is to connect with other writers and readers and to be part of a larger dialogue in which I'm contributing in whatever small way, to making a world where the act of writing and the power of words, and not my own, matter. Because this all just matters so much to me. I'll also say that like my own writing life BWR feels deeply personal to me, just in a different way. Since I feel this, I'm sure the editorial process has crept its way into my own work. The questions we ask of pieces have surely become questions I ask of myself.
NL: Ok. Its January 2018 & you have passed the baton onto the next editor in line. Where do you visualize the journal at the end of your tenure? What do you visualize has happened in your time as editor?

GA: During a difficult time, I hope we can continue publishing the incredible gems that made BWR important to me before I ever stepped foot in Alabama, and to keep moving the journal in a direction that asks the questions that need to be asked. I hope someone else might find an issue on the shelf and connect with it the way I did many years ago. 

NL: What do you most look forward to with BWR this year?
GA: I can't wait to just keep working. This is a simple answer but the most truthful one I can give! I also can't wait to look back when it's all said and done, but for now, I look forward to the process of getting there more than anything.