Black Warrior Review reads general fiction and poetry submissions from December 1 – March 1 and June 1 – September 1. Nonfiction general submissions are always open. Submissions are accepted through Submittable at bwr.submittable.com/submit. There is a $3 submission fee for our general categories. We use these fees to pay contributors.
If Submittable is not accessible to you, please email blackwarriorreview@gmail.com for further instructions. Unfortunately, we no longer accept physical submissions, with the exception of those from incarcerated writers, who may send their work for no fee to the address at the bottom of this page.
Black and Indigenous submitters may email their submissions, for no fee, to blackwarriorreview@gmail.com. (Please include a brief cover letter and bio.) Otherwise, email and mailed submissions will not be considered. BWR pays a one-year subscription and a lump-sum fee for all works published. Rights revert to author upon publication; please credit Black Warrior Review with first publication if the work is republished elsewhere. We encourage you to read Black Warrior Review before submitting. Sample issues are available for $12; one-year subscriptions for $20.
Black Warrior Review is a paying market. Currently, we offer royalty payments to regular-submission print contributors between $100 and $220, depending on the length of pieces. These numbers are subject to change per issue and differ for contributors to Boyfriend Village (our online edition) and for chapbook and featured-art contributors.
GENERAL RULES & GUIDELINES
The average response time for submissions is between 1 and 6 months. If you have not received a response after 6 months, please check on the status of your submission in Submittable. If you encounter any problems, email us at interns.bwr@gmail.com.
Please wait one month after receiving a response to submit again.
We do not consider previously published work.
Simultaneous submissions are welcome. Please tell us if it is a simultaneous submission, and notify us immediately if the work is accepted elsewhere.
Please do not mix genres in the same submission. Our online issue is currently an exception to this rule.
Past contributors and contest winners, please wait three years from the date of your publication to resubmit work.
Past contributors and contest winners to the print journal may submit to the online journal after waiting only one year from the date of print publication. Past contributors to the online journal should also wait a year from the date of publication before submitting to the print journal. We view these journals as separate creatures, having meaningful conversations late into the night.
Students, faculty, staff, and administrators currently or formerly (within four years) affiliated with the University of Alabama are ineligible for consideration or publication.
We especially strive to magnify voices that are traditionally and systemically silenced. Writers of color, queer and trans writers, disabled writers, immigrant writers, fat writers and femmes: you are all welcome and wanted here.
BWR is all set up in jeans and a corset. We're smoking a very long cigarette on an old yellow couch. It's 2:27 AM. The mailman wanders in, looking for his lost shih-tzu. In the ensuing conversation, the life erotic, the life political, the life bound and unbound is glimpsed. The sharpened edges of systems cut the grasping fingers. This just might be a comedy. Or it might, after all, be a prophecy.
Send us your finest works of fiction. We prefer work under 5,000 words, no more than 7,000, please. One piece at a time, unless it is under 1,000 words, in which case bundle no more than three into a single document. The weather is bad, we've got plenty of time for reading.
Send us your fiction here.
We are interested in nonfiction that complicates western traditions of truth-telling. Send us writing that foregrounds the history of emotions rather than the history of facts. We want work that fractures reality, that demolishes walls. Writers of color are especially encouraged to submit.
We ask that nonfiction works are no longer than 7,000 words. Please query for longer works. We do not usually accept academic articles.
Send us your nonfiction here.
We're looking for your portraits of Truth coming out of her well. (That's just poetry, isn't it?) That is, we're looking for little truths, your own kind of portraiture. But also, and perhaps more importantly, we're looking for half-truths, lies, finger-paintings with heart, finger-paintings soulless.
Send us your loveliest left-aligned, but first send us grit. Send us the stuff that you pick out of your shoe treads.
Send us the formal (ball gowns?), but also send us I woke up like thises (free verse, erasure, the visual?). Write us in logic puzzles, but write us in Steinese (please)!
We like contradictions. (No, we don't.) And parentheticals. (Look.) We'd like for you to send us up to five poems, with a maximum submission length of 10 pages.
Poems should be submitted in one document, with the titles separated by commas in the "Submission Title" field. You may abbreviate the titles if they do not fit. Please query for poems longer than ten pages.
Send us your poetry here.
GRAPHIC WRITING, COMICS, & ART
Although we usually solicit one featured artist per issue, we do welcome submissions of striking visual narratives (think: graphic novel or memoir in short form). We are looking to publish one or two graphic essays/stories/poems, or pieces of sequential art per issue.
We publish graphic writing in grayscale. Submit in .jpg, .tiff, or .pdf format.
Send us your visual submissions here.
BWR celebrates world literature and translation. Right now, we are looking for work translated into English in all genres—particularly poetry, prose, and drama. While we do appreciate updated translations of classic works and lesser known works by well-known authors, we gravitate more toward work from authors who have not yet been translated into English or found a large English-language audience. For more guidelines, please read our general calls for submission to get an idea RE: the kinds of work we publish.
We only publish translated works that are completed, self-sufficient, and under ten pages. Works that have already been published in its original language are preferred.
In your cover letter, please provide: an account of the text and its author, a short biography of the translator, and any other information that you deem relevant. If possible, please include the work in the source language. It is the translator's responsibility to secure permissions for publication.
Please wait at least one month before resubmitting.
Send us your translations here.
BOYFRIEND VILLAGE (ONLINE ISSUE)
Black Warrior Review is seeking submissions of all genres for our fourth edition of Boyfriend Village: The Secret Boyfriend.
Send us your secrets, your deepest-darkests transmuted on the page. Send us a game of telephone dressed up in verse, or a rumor in the guise of a fiction. Send us poems that are secretly stories, and stories that are both, and more. Send us the work we've all been secretly hoping for, work that breaks categorization, that causes the whole simulation to glitch. Send us your audio-visual and your collage, your collaborative and your interactive. We want to be surprised by what you've shown us. We want you to be surprised at what you've revealed. We want intimate. We want expansive. We want your secrets.
Boyfriend Village will be open for submissions until March 31, 2020.
As always with Boyfriend Village, the theme is very much open to interpretation. If you think your boyfriend might belong in our village, please send him along. Unfamiliar with Boyfriend Village? Click here to learn more.
There is one submission category for all genres. We accept fiction, poetry, nonfiction, hybrid, visual and multimedia art, as well as sound collage, video, games, and more. You may use your cover letter to tell us as much or as little about your work as you like.
Simultaneous submissions are welcome. Send prose pieces no longer than 7,000 words. For flash (pieces under 1,000 words), you may include up to three prose pieces in a submission. For poetry, you may send us up to five poems, with a maximum submission length of 10 pages. For graphic, audio, and visual work, if Submittable accepts the file type, so will we! Color images most welcome.
Click here to submit.
There is a $3 submission fee. Submission fees are used to pay contributors.
We pay all contributors to Boyfriend Village.
A PORTFOLIO OF AFTERWORDS: GUEST EDITED BY RENEE GLADMAN
For this special section of Black Warrior Review, we invite you, writers at all stages of your careers, to consider the book that you've recently completed, that you've published within the past three years, or that is forthcoming within the next year: Is there one further thing you need to say, a gesture you'd like to extend to the book or to the world? Would it be of use to add something about the process, to create a reflective statement about the journey or the silence after the journey? If yes, send us your afterwords.
Guidelines:
1. We are interested in a diversity of statements. However, lyrical/meditative approaches are highly encouraged.
2. Previously unpublished texts will be prioritized in the selection process, although all afterwords will be considered.
3. Length of submission should range from 500 to 2,500 words.
4. Submissions are open to all genres.
Submissions close April 10 or when our submissions cap is hit.
This section will appear in BWR 47.1. All contributors will be paid.
Send us your afterwords here.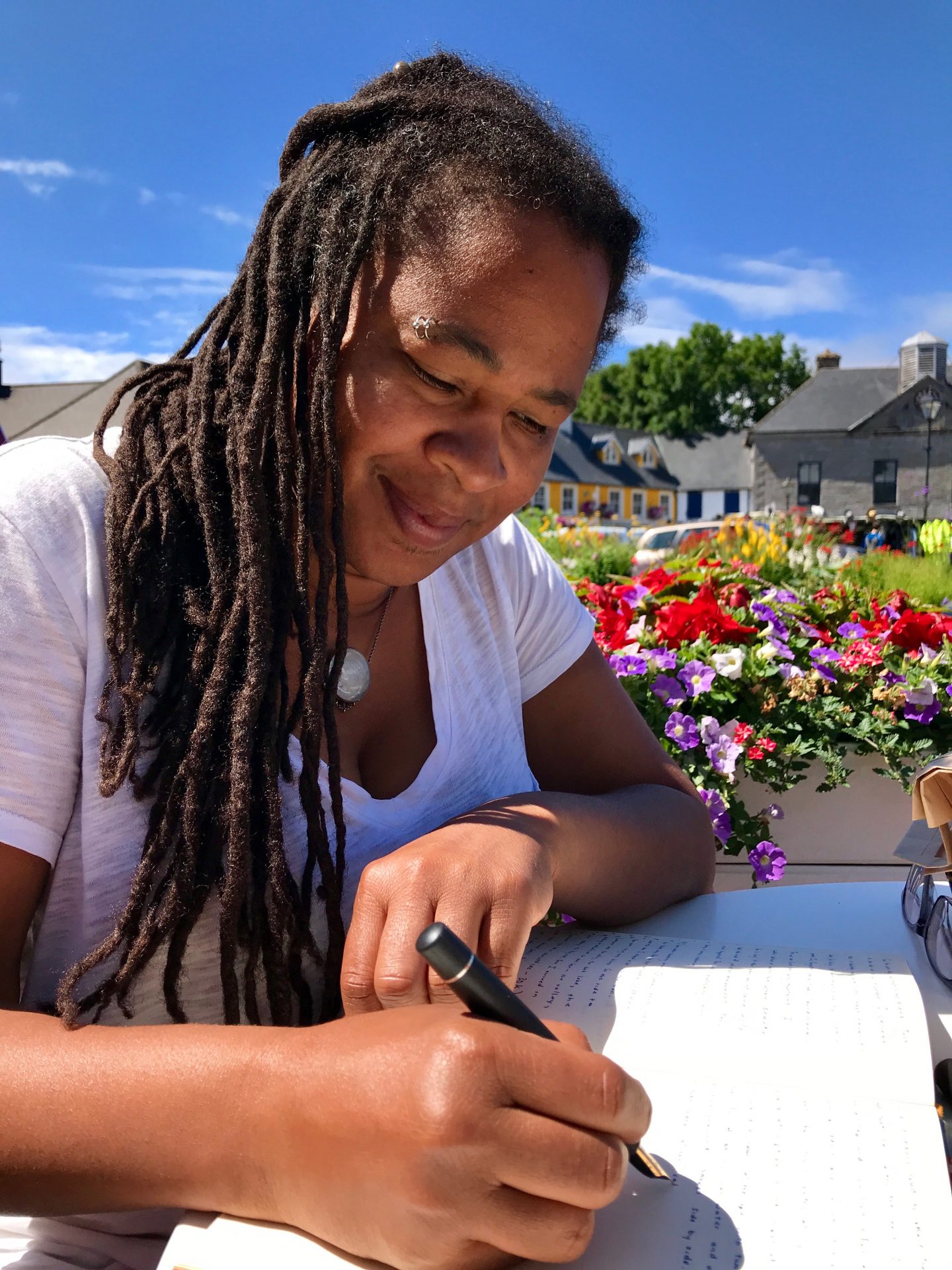 Renee Gladman is a writer and artist preoccupied with crossings, thresholds, and geographies as they play out at the intersections of poetry, prose, drawing and architecture. She is the author of twelve published works, including a cycle of novels about the city-state Ravicka and its inhabitants, the Ravickians—Event Factory (2010), The Ravickians (2011), Ana Patova Crosses a Bridge (2013), and Houses of Ravicka (2017)—as well as Calamities, a collection of linked auto-essays on the intersections of writing, drawing, and community, which won the 2017 CLMP Firecracker Award for Creative Non-Fiction. Morelia, a brief crime novel was released in spring 2019. Her drawings have been collected in Prose Architectures (2017) and One Long Black Sentence, a series of white ink drawings on black paper and indexed by Fred Moten (forthcoming spring 2020). Recent essays and visual work have appeared in The Paris Review, Gulf Coast, Granta, Harper's, BOMB, and n+1. She has been awarded fellowships, artist grants, and residencies from the Radcliffe Institute for Advanced Study at Harvard, Foundation for Contemporary Arts, the Lannan Foundation, and KW Institute for Contemporary Art (Berlin) among others. As a 2020 Bagley Wright Lecturer, she'll be touring various cities in the U.S. and Canada, presenting talks on moving architectures, scoring invisibility, and drawing writing. She makes her home in New England.