An Interview with Sarah María Medina – 2017 BWR Poetry Contest Winner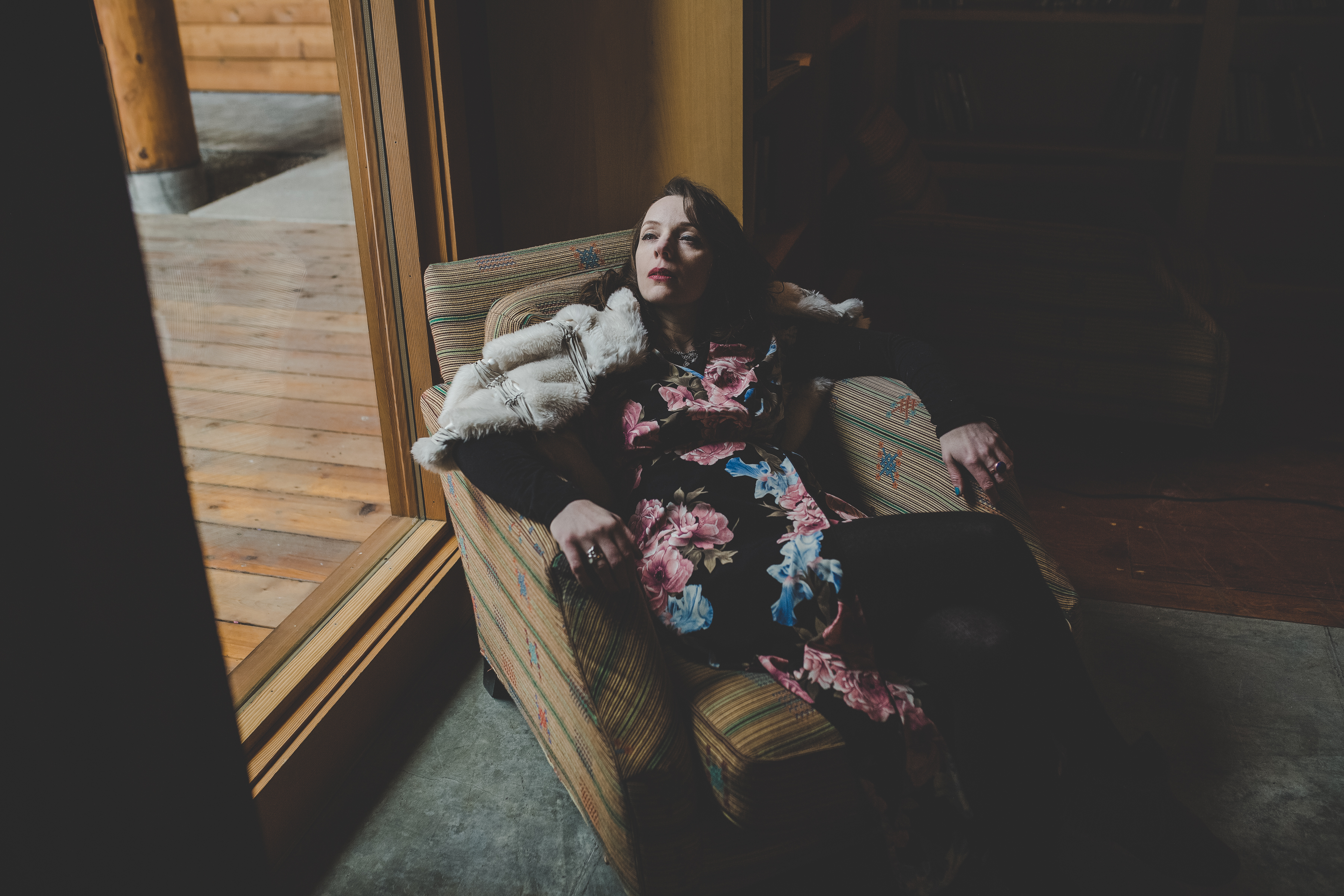 Sarah María Medina is a poet and a fiction/creative non-fiction writer from the American Northwest. Her writing has been published in Prelude, Poetry NW, Split This Rock, Raspa Literary Journal, and elsewhere. Her work is forthcoming in two anthologies: Nepantla: An Anthology Dedicated to Queer Poets of Color (Nightboat Books, 2018), and Bettering American Poetry Vol. 2. She is an ARTIST UP Grant LAB recipient, a Jack Straw Writer, and the poetry editor at Winter Tangerine. Find her here: www.sarahmariamedina.com
Interview by GAIL ARONSON
Black Warrior Review: "From a Poet to her Rumbero" is written after Rumberos de Cuba's "La Media Vuelta." With its deftly crafted chaotic and voice-driven line work, the poem achieves a harmonic rhythm that feels very much akin to the song. Can you speak to how you were thinking about song and rhythm, and "La Media Vuelta," specifically, as an impetus for the piece?
Sarah María Medina: Yes, and first, I want to say thank you for such an in-depth reading of this piece. It's a true honor to be published in Black Warrior.
I love this song because the Rumberos took the ballad and changed the rhythm. I love "La Media Vuelta," in particular because it speaks to loving a beloved so much that you send them off into the world, you say, "quiero que te vayas por el mundo, quiero que te besen otros labios." You promise that you want your beloved to kiss another, so that they are certain of their love for you. It's a decolonization of love in the sense that there is no sense of ownership, only a love that you're willing to set free. It's an eternal love.
I'm very drawn to a Rumba pattern as opposed to a European style sonnet. Within the Western canon, poetic form is influenced by colonization. Yet, in Puerto Rico and the Boricua diaspora, there is a strong Taíno and Yorùbá influence. This open ended form is expandable and contrasts with a European fixed, symmetrical structure. I carry this musical expansion to the page, breaking from expected Western poetic form.
BWR: Not only does this poem's language enact musicality, it is also a contrapuntal poem, which is really exciting! Spanning across and down the page, the two columns interact like interlocking melodies. As a reader I found myself thinking about the ways this form mirrors that of the relationship it describes. How did the content inform your stylistic and formal choices?
SMM: I had played a bit with this form previously, but it wasn't until I fell in love with Xandria Phillips's poem "YOU AND I: [NO COLONIAL] [POST COLONIAL]" that I began diving deeply into the form. What I learned from Xandria is that each side plays with tensions and opposites. Here, within the complex relationship between the poet and her rumbero, in the left column, you find "y once we were in love/ because we knew it would never" and in the right "y once we made an ocean of parting/ but we hoped" and later in the left column, the poet leaves, and in the right she stays. When read horizontally, both happens, and ultimately she learns to harmonize on her own. But like true relationships, neither side fits within a polar opposite, the narrative expands and collapses across the columns. Within both columns you find hope and despair, fear and love, freedom and devotion. With this piece, in particular, because of the song's rhythm, I played with expansion and tension.
BWR: I was impressed by, like its contrapuntal form, how the poem so effortlessly holds seemingly dissimilar things at once and brings them together in a fashion that feels unique to the speaker: internal observation and disassociation from the self (the sense that, "i watch myself like it's a movie"), crowded line and empty white space, English and Spanish. How do you see the cohesion of these elements functioning in this piece, or in your writing process generally?
SMM: I like this question because as Deleuze says, each reader will embody text differently. The disassociation you read is an interesting textual embodiment. When I wrote it originally, I was speaking more to astral dimensions, where you might remember your astral double kneeling before a beloved in another realm. For me, this also connects with espiritismo, the presence of spirits and ancestors. So now, thinking about bringing together dissimilar aspects, I could say that I was gathering distance and intimacy together within the body of the poem, both spiritually and physically.
I use white space to play with the rhythm and beat of an open rather than set structure. There's another song I love which switches from Rumba to Bembé and I like thinking about what that would look like on the page. I like to use Spanish to subvert English, to reclaim tongue, but Spanish is also a colonizer language, so I like to find Taíno and Yorùbá words too.
BWR: The poem calls attention to a specific personal history and the ways in which others view the speaker with moments such as, "no i'm not thoroughbred / fuck them for asking." Like so many other sophisticated twists and turns in perspectival and formal choices, these remarks on the speaker's identity also resist reductive categorization. Can you speak to how you were thinking about identity functioning in the poem, or in your work as a whole?
SMM: Yes, sure, being mestiza or mixed, and being also the lightest hued of my siblings, it comes out a lot in my work. In another poem that just came out in "Bettering American Poetry," which was first published by Luther Hughes in The Shade Journal, I detailed a moment that happened when I was a teenager, where I was running with two other teens down the Ave in Seattle. One was Black. The other Latino, and light toned too. Two white teens across the street shot our friend. And I know in my heart, it was my light complexion that saved me then. Whenever someone says they don't think skin tone plays into privilege, I instantly return to that moment of our friend being shot. In this poem though, that line you quoted was a direct response to being asked constantly to define and quantify my heritage.
BWR: Our poetry judge, Rachel McKibbens, astutely characterized this piece as possessing a "bucking heart." The voice of "From a Poet to Her Rumbero," with the epistolary suggestion of from and to, is fierce and direct, yet tinged with a sense of longing. Much as the poem's elements work together to form layered, interlocking readings, it also feels like a piece that asks itself to fall apart. During a particularly difficult political landscape, can you speak to how your work interacts with joy and strength, vulnerability and breakage–on the page particularly, or in a larger sense of why you write/who you write for?
SMM: I love that Rachel wrote that about the heart. I felt so clearly seen by her. I wrote this piece over the summer, when I was listening to "La Media Vuelta," on repeat. I wrote this piece without thinking or planning it out, which is habitually how I write. So while later, I  might intellectualize the process when asked, and think yeah, I'm interested in the decolonization of text, in the immediate, when I'm writing, it's always from a point of intense feeling. Kinda like being immersed in the deepest part of the ocean. And I get lost on the page. When I come back out from that world, I'll go back, edit, and play with form.
Over the summer, this song gave me great comfort during a time I was feeling an intense tension between eternal love and crushing pain from physical separation. That bleeding heart when you so badly want to hold your beloved but can't because they are across an ocean.
I've been letting myself experience vulnerability and joy more in life, in general, just letting my warrior heart be open, be beating, and perhaps that comes across. I've always written as an act of survival.
BWR: Who are some contemporary and emerging writers you are excited about? Any upcoming or recently released books you can't wait to get your hands on?
Right now, I have newly in my possession Michael Wasson's This American Ghost, Xandria Phillips's Reasons for Smoking, Luther Hughes' Touched, Quenton Baker's The Glitter Republic,  Rachel McKibbens' Blud, and Yasmin Belkhyr's Bone Light. I'm waiting for Rosebud Ben-Oni's "turn around, BRYGHT XYSX," which comes out in 2019.
BWR: Who are some writers you find yourself constantly returning to for inspiration?
SMM: Julia de Burgos. I love reading her work in Spanish. Of course, Eduardo C. Corral's Slow Lightning. And prose too— I'm constantly revisiting James Baldwin's Another Country, and Zora Neale Hurston's Their Eyes were Watching God. They've taught me so much.
BWR: Might you describe any current projects you're working on, or what we might expect to read from you in the future?
SMM: I'm at work on my poetry manuscript, Ochun's Daughter. And a memoir, which incorporates espiritismo, La María.
BWR: What brings you joy, aside from reading and writing? Any rituals? Collections? Favorite little luxuries, like a certain lipstick or type of perfume or a favorite place to take a leisurely walk?
SMM: As a femme, I'll definitely admit that I like a good bright lipstick. And I find the Surrealist concept of walking as linked to chance quite beautiful. I would say though that my luxury is music. I grew up in a family of musicians, and music has always been around me. I never had a television growing up, so music informed my life from early on. I was always a dancer, so even now, I'll put a new record on, and dance in my living room.
---
To read Sarah Maria Medina's work and more, pick up a copy of 44.2 or order a subscription from our online store.