37.2 | SPRING/SUMMER 2011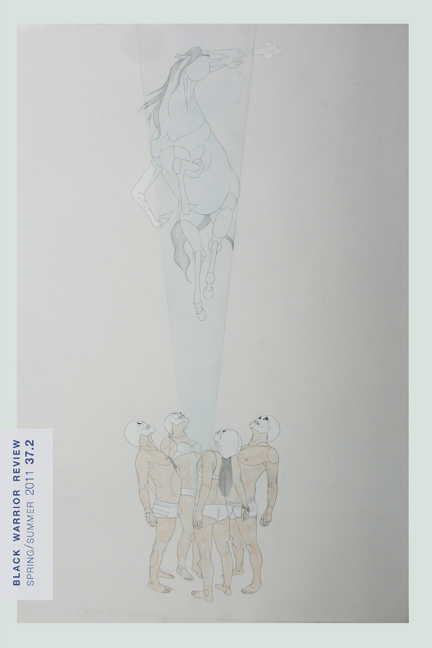 EDITOR: Jenny Gropp Hess                     MANAGING EDITOR: Farren Stanley
FICTION EDITOR: Stephen Gropp Hess   NONFICTION EDITOR: Katie Jean Shinkle
POETRY EDITOR: Daniela Olszewska     DESIGN EDITOR: Emily Conner, Betsy Seymour
ASSISTANT FICTION EDITORS: Abbas Abidi, Rachel Adams, Annie Agnone, David Andrews, Emily Conner, Tom Cotsonas, Dara Ewing, Greg Houser, Emma Sovich, Ben Stroud, Lisa Tallin, Danilo Thomas, Brandi Wells
ASSISTANT NONFICTION EDITORS: Rachel Adams, Annie Agnone, Emily Conner, Tessa Fontaine, Pia Simone Garber, Freya Gibbon, Barry Grass, Katy Gunn, Joshua Helms, Ellie Isenhart, Laura Kochman, Eric Parker, Marybeth Smith, Aaron Smock, Emma Sovich, Lisa Tallin, Brandi Wells
ASSISTANT POETRY EDITORS: Abbas Abidi, Annie Agnone, Anne Bretell, Dara Ewing, Pia Simone Garber, Ashley Gorham, Katy Gunn, Joshua Helms, M. Ann Hull, Eric Karin, Caroline Klocksiem, Laura Kochman, Matthew Mahaney, Jason McCall, Emma Sovich
EDITORIAL ASSISTANTS: Annie Agnone, Freya Gibbon, Katy Gunn, Laura Kochman, Brandi Wells
Shane Castle: Editor, 
Marc DuBois: The Strudel Defense
Max Hipp: Lemon Star
Aaron Kunin: Cumulative portrait. Or overdrawn characters. Or buyer's remorse.
Lito Elio Porto: The Writing (Accounts Perceivable)  |  from A Dictionary of Hues
Philip Tate: Dam (2010 Fiction Contest Winner)
Amy Benson: Claw Inside the Skull
Karen Holmberg: In the Museum of the Body, Alone
Molly Schultz: Litany of My Mother (2010 Nonfiction Contest Winner)
Jessica Bozek: The Seismologist's Tale
Kimberley Burwick: We Are Where We Tremble (2010 Poetry Contest Winner)
Gro Dahle: from A Hundred Thousand Hours
Ben & Sandra Doller: Sonneteer 16  |  Sonneteer 19
Tyler Flynn Dorholt: Nightmare Directed by Wim Wenders
Paul Siegell: *THISAREA COUNTY FAIR*
Sasha Steensen: from House of Deer
Eric Weinstein: Jackdaw | Chainsaw
Cori A. Winrock: Anterior of a Razed Room
Joshua Cohen: Two Tribal Stories
Matt Cozart: Light Away Now
Graham Foust: Three Untitled Poems
Sarah Gridley: Lucida
Claire Hero: inside Dolly
Roxane Gay: Strange Gods
Bhanu Kapil: Nude Page for Ban
Wayne Koestenbaum: Good Morning, Marienbad  |  Grooming in America
J.S.A. Lowe: House of confession. 
Elizabeth Robinson: On Comfort  |  On Buffers  |  On a Version of Eros  |  On Procrastination  |  On Dancing
Megan Volpert: Confessions During Blow Job
Joseph McVetty: Spirithorse (cover)
Graphic Writing
Nicolai Troshinsky
Espen Sommer Eide  |  Antye Greie  |  Scott Morgan  |  Andrew Pekler  |  Marc Richter  |  Janek Schaefer
Michael Sikkema & Jen Tynes: from Autogeography