Local Spotlight: Lorrie Lane, Tuscaloosa artist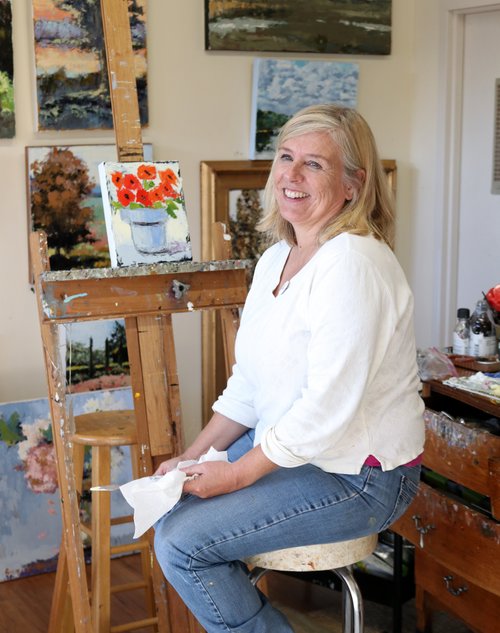 Lorrie Lane is a self-taught improvisational realist oil painter. She began painting as a child in upstate New York and never stopped. After attaining a degree in English from Smith College, Lane had planned on becoming a writer. In the mid-eighties, she found her southern roots in Alabama where she has been working as a professional artist ever since. While flurries of poetry and petite narratives still flow out of her, she chooses the life of an artist every day.
Since beginning her professional artistic endeavors, Lane been represented by numerous galleries across the Southeast—among those is her daughter—Liz—of Liz Lane Gallery in Birmingham. Moreover, she enjoys local outreach art pursuits within the community and throughout Alabama. 
Lane is currently working in Alabama and uses a combination technique of palette knife and brush—allowing for both glossy texture and realistic detail.
Interview by Josh Dugat
Black Warrior Review: Can you talk about what drew you to painting in the first place? Who were some of your earliest influences?
Lorrie Lane: My mother kept some of my first drawings, done with pencil on church bulletins. I was probably 3 or 4 at the time, and drawing kept me out of trouble, or at least reasonably quiet. I was always drawing and coloring. When I was in middle school I saw a book of Maxfield Parrish paintings–I could think of nothing else for months. The same thing happened to me later with a book with paintings of Chardin and Watteau. I wanted to do what they did but it didn't work as well with color pencils! Someone had donated a box of oil paints to the art classroom at my high school in Clifton Springs, NY, and since no one else in my school wanted to use them, I did. I took a few drawing and painting classes in college but the art supply cost exceeded my budget at the time, so I remained an English major, paper and typewriter being much more affordable.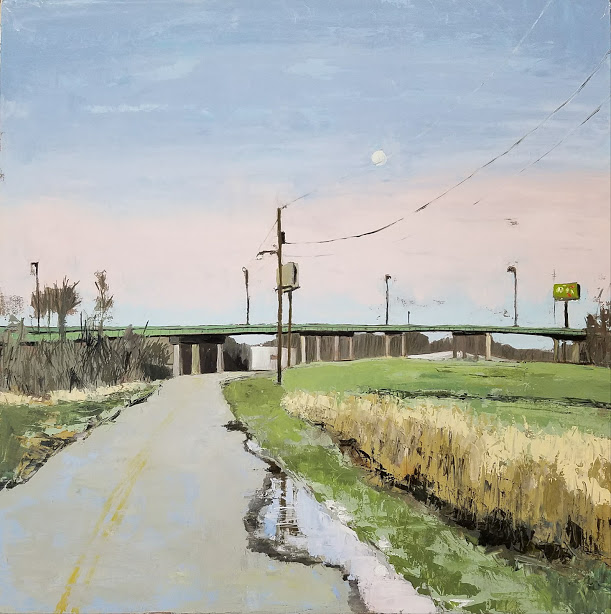 BWR: How would you describe the arts community in Tuscaloosa when you first moved here? How has it changed?
LL: My husband Alan and I moved to Tuscaloosa in 1986 when he was hired to teach Chemical Engineering at UA. I joined the Tuscaloosa and University Women Painters, which was an interest group of the University Women—at that time a group of professors' wives. I objected to the classification (I was 25 and had just graduated from Smith College) but the Painters' Group was why I continued to paint. The arts community has grown with the University and the city. There are ebbs and flows and personalities and scandals—I should write a book!
BWR: You have a background in writing, and have been the galvanizing force behind collaborations with Tuscaloosa writers. Can you share an unexpected joy that's come out of one of these collective projects?
LL: Because I'm both an attendee at the poetry class at Canterbury Episcopal Chapel and a volunteer for the Betak/Frangoulis Art Gallery at Canterbury, a project came together featuring MFA poetry students and local painters. We called it 'Poets and Painters,' pairing a poet with a visual artist. Each responded to the other's work. The exhibit was an interesting mix of poetry and visual art, student and older adults, text and image. I really enjoyed getting to know some of the MFA creative writing students and made some new friends. Art works well when it expands into many forms. This project became a starting point for so many other ideas and exhibits, including another 'Poets and Painters' exhibit this fall.
BWR: How else have you seen art bring people together, here in Tuscaloosa?
LL: Many of my friends in Tuscaloosa are involved in the arts, both visual and performing. Whether they are self-taught or University professors, artists speak the same language. I think we form a small tribe in Tuscaloosa, all wrestling with the Big Questions of life while simultaneously figuring out how to make a living in a small Southern city. The other side of this positive image is that the arts community here is broken up into many tiny parts. Some of that is inevitable given the independent and sometimes solitary nature of creating. Some of it is institutional, and some of it is a failure to imagine a bigger, more diverse community. I keep pushing back against the fracture.
BWR: From painting demonstrations at Kentuck Festival, to teaching with Alabama Prison Arts + Education Project, you have long been involved with arts education across the region. What would be your wish for continued arts outreach in West Alabama? 
LL: I don't think of myself as an art educator, but I have taught in so many places and situations! Currently I'm a regular instructor at the Birmingham Museum of Art's Studio School, as well as teaching occasional workshops at my studio. I would love to see money poured into the public schools for arts instruction. What would happen to Tuscaloosa if we made a commitment to hiring visual art, music, and drama teachers in every public school from elementary through high school? What would it be like if we gave all those students the materials and resources to create art? And why don't we?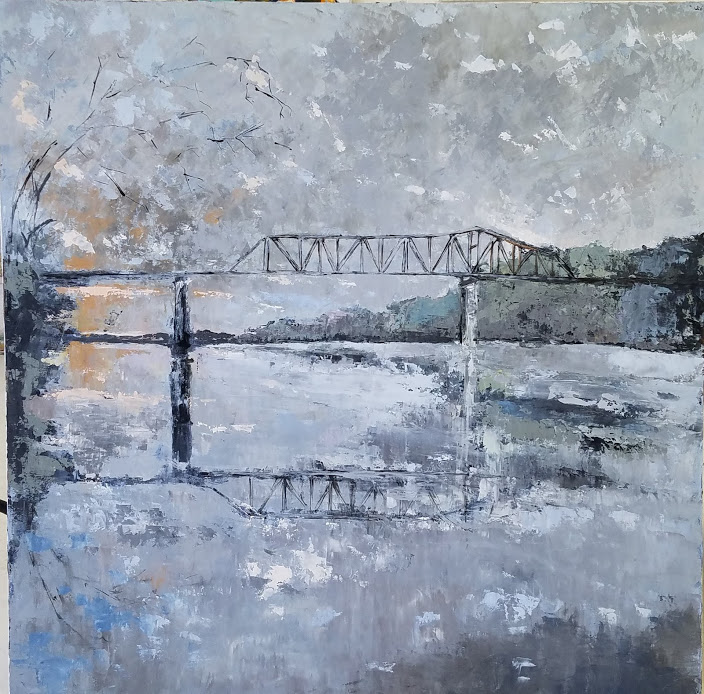 BWR: Some of your most evocative paintings depict everyday scenes in Tuscaloosa (I'm thinking in particular of your trestle bridges, and skies over the Black Warrior). As a painter, what do you find especially stirring about our local landscape? 
LL: I've lived in Tuscaloosa over thirty years, but because I grew up in upstate NY I still see the landscape with an outsider's eye. I love the landscape here—it's so lush, vine-covered, misty. We have dramatic skies with so much variety and color in the clouds due to all the humidity.  I really love painting the Black Warrior River and the train trestle. I admire people who travel to paint and gain inspiration, but I'm not a good traveler, so I find all my inspiration within a 20 mile radius. There are some days I can barely breathe because of all the interesting and beautiful scenes surrounding me.  Many of my landscapes are painted without any outside reference, so what I see in my imagination is pretty much what is inside Tuscaloosa County. Sometimes there's a bit of the Finger Lakes Region as well as the coastal Northwest (where my husband grew up) that show up in the paintings, sometimes all in the same piece.